Tags
college scholarships money for school parents students how to win college scholarships scholarship judge scholarship essay scholarship tips scholarship help university high school college prep scholarship winner financial aid FAFSA grants how to find scholarships
Latest Knowledge Board posts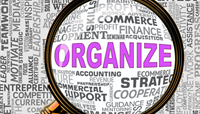 Get Organized to Win More College Scholarships
Wednesday, January 24, 2018
6 Hardcore Hacks for a GREAT Scholarship (and college!) Letter of Recommendation
Wednesday, October 18, 2017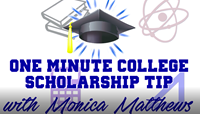 ONE Minute College Scholarship Tip Video
Tuesday, October 10, 2017
Biography
Monica Matthews is the author of "How to Win College Scholarships." She helped her own son win over $100,000 in college scholarships and now shares her expertise with other parents and their students. She truly has "been there, done that" in regards to helping parents and students navigate the scholarship process. Her methods of helping students in finding college scholarships, writing unique and compelling scholarship essays, creating amazing scholarship application packets and more, have taught overwhelmed parents to help their own students win thousands of scholarship dollars. Her scholarship tips can be found on several websites and online publications. Ms. Matthews has been dubbed the "Go-To" expert on college scholarships and her scholarship guide, blog, and tips can be found at https://how2winscholarships.com.
Monica Matthews can also be found on Twitter, LinkedIn, Facebook, Pinterest, SmartCollegeVisit, RealityMoms.Rocks, TUN - The University Network, YouTube, Oroola, FIRST Robotics - FIRST Inspires, College Week Live and Huffington Post.
Experience
College Scholarship Expert
SmartCollegeVisit.com
December 2012 - present
As the College Scholarship Expert and "Scholarship Mom" for SmartCollegeVisit.com, my weekly scholarship tips are published and promoted as a way to help families in the college scholarship process.
Author, Blogger, College Scholarship Expert
How to Win College Scholarships
August 2009 - present
Education
University of La Verne
Bachelor's Degree
Elementary Education Major, English Minor
California State University at Bakersfield
5th year teaching program with Reading Specialist focus.
Other
Publications
How to Win College Scholarships
Monica L Matthews
Languages
Check back later for some activity here. Thank you!